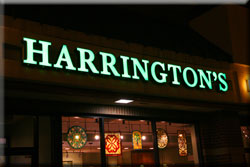 Utter the name at a neighbor's party, a firehouse, a union hall, a parish basement, or heck, to your priest, and at the very least you'll get a nod of recognition. More often, mouths water. "Harrington's falls off the fork. You can't even cut it. You just pick it up with a fork and it comes off," said the Rev.John McNailis of St. Gabe's in Bridgeport.
Ken Harrington, 49, owns Ray Harrington Catering, a Portage Park family business going on 51 years. He knows to expect the screaming this time of year. Because if you want Harrington's corned beef from the end of February to the end of March - you must order by the end of January. No exceptions. Harrington's also deals in chicken and roast pork, served at outside locations or at its banquet hall at 4300 N. Central. But corned beef is the jewel in its crown. Hundreds of pounds are cooked daily and sold whole for pickup, or hand-sliced with all the trimmings.
Harrington's grandfather, Ray, started the business in 1951. He moved to Chicago from Michigan in 1922 and was working as the steward at the Logan Square Athletic Club, a magnet for aldermen and the like. Ray Harrington, an Irishman, was a cook who fed the politicians corned beef and cabbage. They liked it so much, they asked him to cater their shindigs, which he did until he opened his own business.